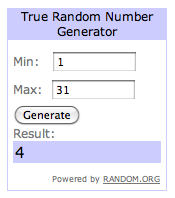 Number 4 according to RANDOM.ORG.I assigned a number, starting at one from the very first comment being number 1, to the final comment being number 31. I entered the minimum number and the maximum number at random.org and clicked "generate" which gave me the number 4.The fourth comment made was in the first post by Patty.Congratulations Patty! You're the winner of the Uganda basket in this weeks give away.
I can even had deliver it, since I will be in Portland tomorrow.If you didn't win this time, don't worry… I've got more to come.Thanks everyone for your comments and encouragement.johno~

---
Jennifer Davis
Option #3: Trying to be like Jesus to my wife, my kids, the youth I serve in ministry, and to an impoverished world. Using photography to help others see more clearly the majesty of creation and the glory of God among us.
Many thanks to all those who gave this a shot. It was lot's of fun to see comments made. Thank you again.
I did want to give a honorable mention to Dan Shaefer. I loved his last line:
God has blessed me with eyes that see. And through the magic of coffee, the internet, and digital photography I have found a way to share the world I see with those I love most.'
Jennifer, if you could email me your address, I'll ship your basket to you.
Stay tuned for the next give-a-way. I'm feeling generous.
peace.
johno~

---
With the help of my son Caleb, one of five folded pieces of paper, containing five different names, was pulled by the 7 year old Thomas kid.
AND THE WINNER IS… THE OTHER JOHN THOMAS.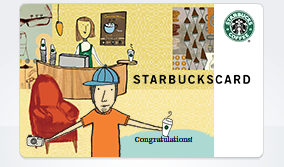 10. Learn the technical aspects of your equipment, and learn them well. (Most of my photographic troubles can be brought down to this.) Ansell Adams was great not only because of his focus (no pun intended) on a single sort of photo, but also because he taught himself the ways of getting what he wanted from his camera.

As technique improves, it has the added benefit of being less necessary to keep in the front of one's mind. You can follow what works with less thought, and can deliberately adjust things to make a point of what would, in a different shot, be a mistake. As Marcel Marceau said, we learn the rules so that we may forget them.
John, congratulations on the win. If you could email me your address, I'll send out your $5 Starbucks gift card.
Now, for the other four who didn't win… don't worry. I've got another contest coming this weeking.
Thanks everyone for your post. This was fun to do.
peace.
johno~

---