Today is Good Friday. Hard to imagine good in so much suffering. However, in His death, He crushes our sin. That's Good News.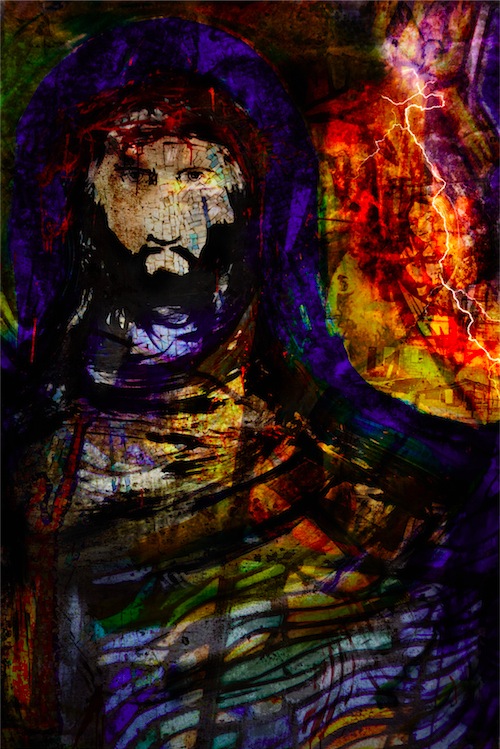 Isaiah 531 Who has believed our messageand to whom has the arm of the LORD been revealed?2 He grew up before him like a tender shoot,and like a root out of dry ground.He had no beauty or majesty to attract us to him,nothing in his appearance that we should desire him.3 He was despised and rejected by men,a man of sorrows, and familiar with suffering.Like one from whom men hide their faceshe was despised, and we esteemed him not.4 Surely he took up our infirmitiesand carried our sorrows,yet we considered him stricken by God,smitten by him, and afflicted.5 But he was pierced for our transgressions,he was crushed for our iniquities;the punishment that brought us peace was upon him,and by his wounds we are healed.6 We all, like sheep, have gone astray,each of us has turned to his own way;and the LORD has laid on himthe iniquity of us all.7 He was oppressed and afflicted,yet he did not open his mouth;he was led like a lamb to the slaughter,and as a sheep before her shearers is silent,so he did not open his mouth.8 By oppression[a] and judgment he was taken away.And who can speak of his descendants?For he was cut off from the land of the living;for the transgression of my people he was stricken.[b]9 He was assigned a grave with the wicked,and with the rich in his death,though he had done no violence,nor was any deceit in his mouth.10 Yet it was the LORD's will to crush him and cause him to suffer,and though the LORD makes[c] his life a guilt offering,he will see his offspring and prolong his days,and the will of the LORD will prosper in his hand.11 After the suffering of his soul,he will see the light of life[d] and be satisfied[e];by his knowledge[f] my righteous servant will justify many,and he will bear their iniquities.12 Therefore I will give him a portion among the great,[g]and he will divide the spoils with the strong,[h]because he poured out his life unto death,and was numbered with the transgressors.For he bore the sin of many,and made intercession for the transgressors.
Peace.johno~the above image is an original painting I made for the Renovatus church. Combined in this painting are images from Jerusalem, Dominican Republic, and Arizonia and an image of my faceif you would like to see a full resolution, CLICK HERE.

---
Reading through the comments posted yesterday, this line caught my attention. "We are blessed in this life when we are able to 'bring the light.'" As true as this statement is, don't we battle with this thought in America? Instead of bringing the light and finding ourselves in blessings, we simply say "God bless America" without any expectation of bringing anything to the table. Hasn't God already blessed us as we sit on our sofas playing our WII games and watching Netflix? Are we now in a welfare based system of blessing? God bless us… God please bless my family… God bless my, fill in the blank. Give us, give me.I was talking to a young man the other day who claims to be an atheist. He said, "one of the things that bothers me about Christianity is, they don't really believe in mankind." He went on to explain his thoughts and how he believed that mankind was more capable of doing more good than many of the sermons he had heard that preached, "man is nothing, he is a sinner and he is lost." As I listened to him, I believed he had a good point.Sometimes we do focus on the, "O what a wretched man am I" and never on the incredible power of what this son of Adam can be.God has an incredible blessing for mankind. As people who follow the Way, we must "bring the light" to those around us. Realize that the God of all creation came down from heaven to earth as the man Jesus and told us about stories about Kingdom of heaven. It was Jesus who showed us the way to the Father and then returned to the Father leaving the story of the Kingdom of heaven in the hands of mankind to share with mankind from generation to generation. That's some responsibility.I believe it's time for us to stop asking God to "bless us" and it's time for us to bring the Light to the darkness… then we will be blessed because God is already there.Have you ever fed someone who was hungry? Ever visited someone in jail? Have you ever given water to someone who was thirsty and not felt the blessings?I believe there is a generation of people who are tired of hearing how bad they are and listening to ancient prayers for God to bless them while they sit stoic in church pews. We should be talking more about ways to bring the light into the darkness and the blessings will overflow.True, we are saved by Grace and not by works so no one can boast… But, a faith without works is dead.peace.johno~–Congratulations to Patricia for her comment. She gets her name in the bucket twice. Don't worry, if you made a comment on yesterdays blog post your name goes in the bucket too.Don't forget to pass this on to your friends or don't if you feel selfish and want the basket all to yourself… Keep posting comments to get your name entered.

For those of you just tuning in, here's the contest:This week, I'd like to know your thoughts on what topics you think get talked about to much on social websites, i.e. blogs, twitter, facebook, etc… and what topics don't get much attention on the web.My promise is to choose one topic from the comments and blog everyday this week about something you think doesn't get much attention.Here are the rules:1. Since this site is viewed by some of my children, your topics must be family friendly.2. You can post your ideas once a day. You can comment as much as you like on things suggested by others or even your own ideas… but, only one post with your ideas will be count.At the end of the week I'll throw your name in a bucket for every post you made and draw a name at random. That name will WIN a nice basket from Uganda, Africa.

---
I heard about a man killed in a human stampede on "Black Friday" in Walmart, by people trying to get the deal of the day. I'm embarrassed to be human.
Shawn McDonald song called "Greed" (which has really challenged my thoughts this Christmas), inspired me to make a video using clips of Black Friday I found on youtube. I'll probably get sued… it's worth the risk to help refocus the mindset in America the Christmas.
Consider giving the gift of a goat this Christmas.
Peace.
johno~

---