"The Hole in Our Gospel" by Richard Sterns
a short book review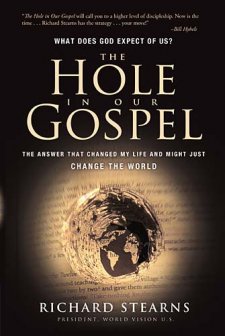 Recently I received a complementary copy of "The Hole in Our Gospel" to review for BookSneeze dot com*. I was overjoyed to receive my copy and thought I would get to it sooner than later. I'm sorry I waited so long to finish this book and review it here for you.
It is the story of Richard Sterns, now president of World Vision US and his journey of "What God expects of us" as Christians today. It's a very powerful telling of Rich's personal life and experiences with World Vision in third world countries where he boldly asks Christians everywhere to do what the scripture says, take care of widows and orphans. This is what this book is about. There are over 2000 scriptures dedicated to poverty and justice in the Bible and Rich focuses on this insight and leads us to believe, it must be important.
Of the many stories Rich shares, I was amazed at his story about becoming president for one of the worlds largest NGO's. It's hard to ignore God when he is calling you. I was encouraged and wondered how I would respond if God were calling me so clearly.
It would be an error to assume that every Christian understands the difficulties of extreme poverty and justice in third world countries. Many minister and pastors fall short of this understanding. Not because they don't care, rather, they are just uninformed. If you are looking to equip yourself with a better understanding about extreme poverty as seen through the efforts and work of Rich Sterns and World Vision, then this is a great place to start. It gives powerful stories of children in need all over the world and statistics that can sometimes be overwhelming. It has the potential to change your paradigm and ask you to live different and give different.
There are many organization that are working to make a better world for children. This book focuses on what Rich Sterns and World Vision are doing. In all it is very well done.
Keep an eye out for the launch of my new website and a contest where you could win a copy of this book.
peace.
johno~
* I received this book free from Thomas Nelson Publishers as part of their BookSneeze.com book review bloggers program. I was not required to write a positive review. The opinions I have expressed are my own. I am disclosing this in accordance with the Federal Trade Commission's 16 CFR, Part 255

---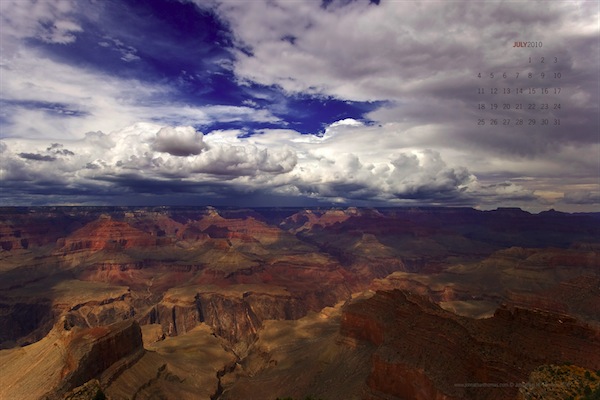 Another month has flown by. I know many of you are planning vacations and your summers are more packed than mine. Personally, I feel like I need to pick up some Montana brochures and relax a bit. Anyhow, I realized as I looked for photos for July's desktop of the month, that I'm not to patriotic when it comes to photography. I found a few pictures of fireworks, but who wants to look at that for an entire month? So, what better than a good ol' american landmark… the Grand Canyon.
If you've never been to the Grand Canyon, I highly recommend you go. If you have small children, just strap a harness to them and "belay on." Seriously, it is a wonderful trip for the entire family. Just remember to drink lots of water.
Until then, you can get the desktop calendar HERE.
Peace.
johno~

---