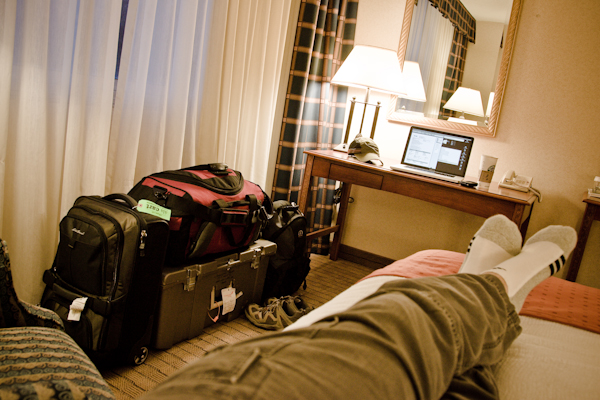 Well, I'm not sure if this is a real blessing… but many blessings come about because of it. Traveling. Today, my oldest daughter said, "Wow, you know how many miles you will fly this year? How cool is that?" I told her she would drastically change her mind once she took the flight form Seattle to London and London to Entebbe, Uganda. It's not that cool to fly… However, the ministry, the serving is.
This week I will be flying with World Vision to Guatemala to do some photography for their "Vision" trip. A hand full of World Vision volunteers and a couple staff members will embark on a trip of a life time to see how WV works with communities through child sponsorship.
This is an incredible opportunity for me and it's a crazy story that lead me to this spot today.
In March of 2009, I signed up with World Vision as a Child Ambassador. A CA is someone who shares the joys of child sponsorship, with churches and other organizations, on how to make a difference in a child's life, their families and community. Our family sponsors two beautiful kids in Uganda… Zakaliya and Lucy. We wished we could sponsor more children but instead I chose to volunteer and invite other into the joy that our whole family has had.
Sharing the story of sponsorship can be hard sometimes… It's not that people don't care, I just think they're afraid. Afraid of long commitments, failure, putting a face on poverty or a host of other concerns… I hear lots of things. I wish people would take a few more risks in life and just trust Jesus.
Well, I shared with my mother about sponsorship… She looked through several picture folders and fount two little boys she wanted to sponsor. She then told me that she would pray about it and get back to me. She never did. The picture folder that I receive, of WV kids, have expiration dates. This gives them a better chance and more exposure by not letting them "hang" in one spot. Well, the folders expired. She had missed the opportunity to work with these boys. She was truly upset. I told her I had just received several more folders of kids needing sponsorship and so she grabbed the folders and began to read their stories.
Carlos, jumped out at her almost immediately. They both shared the same birthday, January 4th. Not only that, but Carlos has a big family, Five sisters and three brothers. My mother also has eight other siblings. It seemed to be the perfect match. This time she filled out the paper work and became Carlos' sponsor. So cool.
Several months later, I was having lunch with a good friend of mine, sharing goals for 2010. I told him I wanted to retire from sports photography and do more humanitarian work. I told him I should probably think about contacting World Vision since I was already working with them. I had sent and inquiry about using some of my photos from a previous mission trip… nothing. Not a call, nothing. I knew, this would be difficult. There are so many gifted photographers, I had a pity party scheduled… but I decided not to show up. I had to make a strong effort to plan something in 2010. So I began to think about when I would be thinking about connecting with WV.
Shortly after that, I received a call from the National Director for Volunteer Service. She asked me if I might be available to be their photographer and videographer for a trip to Guatemala. I have to say I was shocked. I wasn't suppose to even begin to start thinking about this yet and here it was in my lap. I responded with a maybe and that I had to pray about it. With a little one due in December of 2009 and plans for a Uganda trip with my oldest daughter in May of 2010, I was a bit unsure.
All of a sudden it was if I had shown up to something that God was orchestrating long ago. I called my mother, who is a powerful prayer warrior, I shared with her what was going on, that I had been invited to take photos for World Vision and she told me she was just thinking about her sponsored child Carlos. It turned out that he was from Guatemala. She said she would pray about it and that was that.
A few nights later, she called and said God had put it on her heart to pay for any cost, that I would need for the trip. I told her that WV was taking care of most of the cost but she said she would send me a check… She said, "If you go or don't go, I just feel that I need to send you this." I told her we were taking one day at a time and much would be decided after Rebekah was born. Dawentte and I agreed that God was up to something and that we would listen to His call. I agreed to prayerfully move forward on this trip. Rebekah was born December 14 and on December 15 I had my first phone conference with the Vision team members. On that call, I learned that we would be in Ixim Achi, ADP #179904. I really thought nothing of it. I was trying to catch up with the team.
January 4th, my mothers birthday, I called, as usual, to wish her well. She asked if I had decided to go to Guatemala and I told her, Yes. I didn't realize that it had been so long since we spoke. She was excited that I was going and then something clicked in me… I asked her to go get Carlos' picture folder… I told her there should be a number for the Area Development he was in. She got the folder and read, "1-7-9-9-0—–4." I couldn't believe it. God had put something on her heart long ago and now God was sending me right smack to his home. God is on the move and I love that about Him. Tomorrow, Lord willing, I will be in Guatemala and in a few days I will meet Carlos and his whole family face to face.
So all the prep work has been done, and now I sit in this hotel room ready to travel. God is all over this. There is no other reason for my being on this trip other that He has something planned. I am looking and listening.
So traveling is a blessing and to have a place to rest in between is too.
I'm so excited to see what's next on this journey.
Until the whole world hears.
johno~

---
---
---
---
---
---
---